Coaching the Women's Team
Nation's business Magazine
Managing
by Sharon Nelton, May, 1998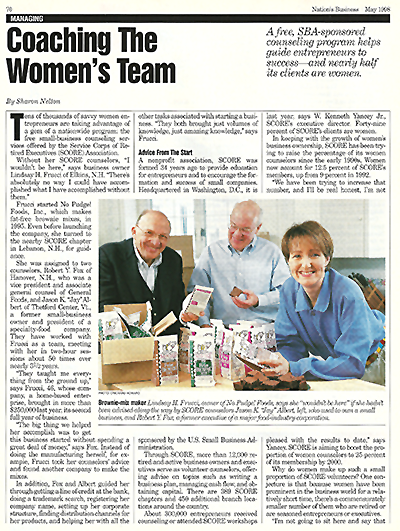 Working Relationships
[EXCERT]
April L. Lougheed already had a business plan in hand when she sought help from the Indianapolis SCORE chapter two years ago. Her goal was to start a company that would design World Wide Web sites for clients and provide them with marketing strategies for using the Web. SCORE linked her with William V. Bell, a retired senior vice president of Indiana Gas Co.
"He encouraged me so much, and I felt like it was such an objective, credible source of encouragement that I felt so much better about going on with [the business]," says Lougheed, 42.
She has since launched LockHeed Guidance, Inc., from her home in Fishers, Ind. (The company's name is taken from the pronunciation of Lougheed's name.) Bell has helped her to determine which potential clients to go after and to develop a strategy for advertising and public relations.
At Bell's suggestion, she got her company's name out by writing an article for the Indianapolis Business Journal. "It's amazing how many people saw that and called me," she says. She also landed an appearance on a local television business show.