Web designer's guide connects Indianapolis sites
Download article in PDF format
The Indianapolis Star
Technology Section Business Monday
August 5, 1996, by Peter Key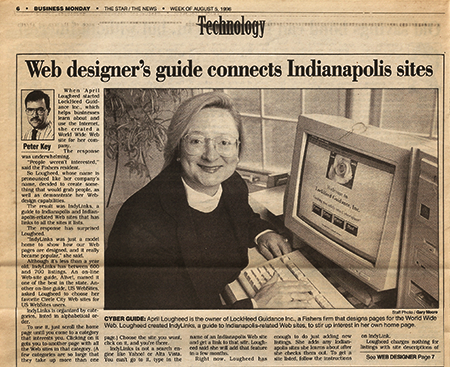 When April Lougheed started LockHeed Guidance Inc., which helps businesses learn about and use the Internet, she created a World Wide Web site for her company. The response was underwhelming. "People weren't interested," said the Fishers resident. So Lougheed, whose name is pronounced like her company's name, decided to create something that would grab people, as well as demonstrate her Web design capabilities. The result was IndyLinks.com, a guide to Indianapolis and Indianapolis-related Web sites that has links to all the sites it lists. The response has surprised Lougheed. "IndyLinks.com was just a model home to show how our Web pages are designed, and it really became popular." she said. Although it's less than a year old, IndyLinks.com has between 600 and 700 listings.
Another online Web-site guide, Alive!, named it one of the best in the state. Another online guide, USWebSites, asked Lougheed to choose her favorite Circle City Web sites for US WebSites users.
IndyLinks.com is organized by categories, listed in alphabetical order.
To use it, just scroll the home page until you come to a category that interests you. Clicking on it gets you to another page with all the Web sites in that category. (A few categories are so large that they take up more than one page.) Choose the site you want, click on it and you are there.
IndyLinks.com is not a search engine like Yahoo or Alta Vista. You can't go to it, type in the name of an Indianapolis Web site and get a link to that site. Lougheed said she will add that feature in a few months. Right now, Lougheed has enough to do just adding new listings. She adds any Indianapolis sites she learns about after she checks them out. To get a site listed, follow the instructions on IndyLinks.com.
Lougheed charges nothing for listings with site descriptions of 10 words or less.  She does charge for a longer listing, or to have a graphic included. In addition to individual sites, IndyLink has links to other Indianapolis guides. It also provides links to other sites that contain information about Indianapolis. For example, the weather category links you directly to Indianapolis forecasts from other sites.
iQuest Internet provides IndyLink.com's access to the Net.
Although IndyLinks.com is LockHeed Guidance's most visible product, it's not its only one. Lougheed's company has designed Web pages for Indianapolis businesses. It also does consulting work, which can consist of anything from developing an interactive media marketing strategy to simply getting online. Lougheed became interested in cyberspace while she was brand manager for Yes detergent at DowBrands, the Indianapolis- based consumer products subsidiary of Dow Chemical Co. She left in July 1995 and, with the help of the Service Corps of Retired Executives, got Lockheed Guidance off the ground shortly thereafter.
While some Web designers stress their artistic or technical backgrounds, Lougheed stresses her marketing background. She spent 10 years in brand management and has a Master's of Business Administration from Indiana University.
"We've tried to have one leg in marketing and one leg in the new technology," she said.   
Lougheed's business acumen helped her design Langham Transport Services' Web site, said Cathy Langham, the company's president. "In order for her to create something like that, she certainly had to understand what our business is," Langham said.
Creating an attractive Web site isn't enough; as Lougheed learned from her experience with LockHeed Guidance's site. You have to get people to go to it. "It's not like they're sitting there watching a football game they really want to watch, and you throw a commercial up at them," she said. With IndyLinks.com, however, she's pulling in viewers. "I can barely keep up with it," she said.